My "kikay" hormones are now back, 4 months post partum. I can remember how I hated putting stuff on my face when I was still pregnant with Sword. My big cosmetic pouch turned into an old camera case which carried the most basic of all the basic makeups: a compact foundation, colored lip balm and a blush cream. On days my face needed a level up, I just fix my brows. That was all.
Gladly, my part time hosting job did the trick of bringing the "new woman" in me. The used-to-be old camera case is now safely kept in the room and cosmetic pouches occupy my bag now. I also opened the window to try more products and became OC-ier when it comes to skincare. My age helped too. At 25, it's possible for our skin to age faster due to factors like stress and pollution. Syempre I still want to look young and beautiful! I want to embrace my motherhood in a way na hindi naman ako mukhang napabayaan, na-haggard, at higit sa lahat ipagpapalit lang kung saan at kung kanino man. Although Audrey Hepburn said that "Happy girls are the prettiest," I must say that we also need to be pretty if we want to be happy. It comes from within and it should start from you.
Being the sort of beauty junky that I am, I want to show you my current favorites and my most basic of all the basic makeups these days. Yay, goodbye to my boring compact foundation, lip balm and blush! My kikay mantra: "It's always better to be prepared. Bring more shades!"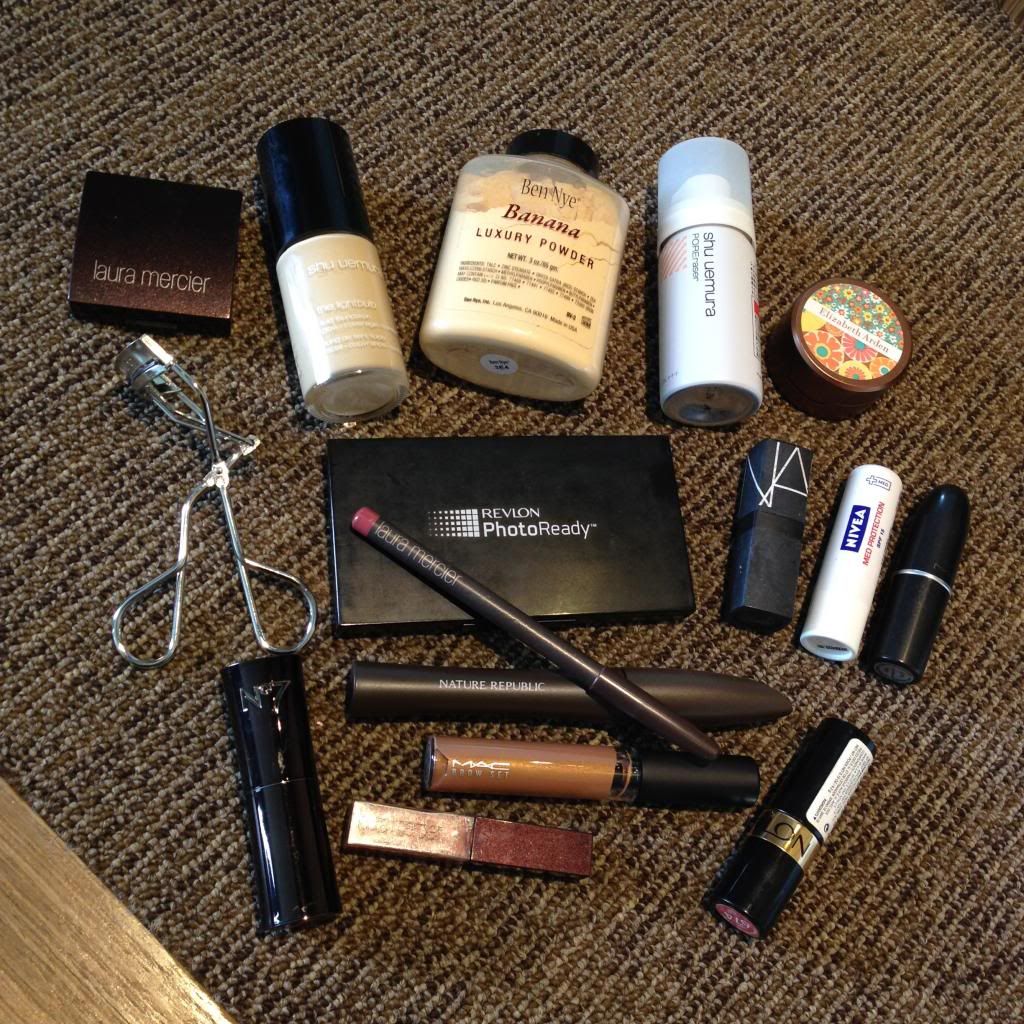 Beginning from top:
1. Laura Mercier Creme Cheek Colour in Oleander
2. Shu Uemura Fluid Foundation in #764
3. Ben Nye Luxury Powder in Banana
4. Shu Uemura UV Under Base Mousse POREraser
5. Elizabeth Arden Pure Finish Mineral Cheekcolor in Sunkissed Coral
6. Shu Uemura Eyelash Curler
7. Revlon Photoready Two-Way Powder Foundation in Natural Ochre
8. Laura Mercier Lip Pencil in Baby Lips
9. Nars in Dolce Vita
10. Nivea Med Repair -- an essential!
11. MAC (Lustre) in Lustering
12. No. 7 in Siren
13. Nature Republic Smudge-Free Mascara in Black
14. MAC Brow Set Gel in Girl Boy
15. Laura Mercier Lip Glace in Opal
16. Revlon in Coral Berry (674)
I'm trying to update my stash most especially during hosting events to develop more, matured looks. I find a hard time convincing my audience that I am already a mother of 1. LOL. But with all the new things I'm trying out now, some things remain--like my Nivea Med Repair lip balm. I'm a user for yearssss now.
Also, I'm about to update my skincare regimen but unfortunately, my face developed rashes after walking under the sun a couple of days ago. :( Not sure what it is but I do hope this is nothing serious! I'll blog about my new discoveries if there's a day like this soon when Sword takes a calming, unkabogable afternoon nap. I swear you'll love these brands even more.
Enjoy your weekend, loves!