How are you, my dear readers? I bet most of us are waiting for the clock to strike 6 to officially start the weekend. My blogging mojos are now recharged, finally! They were so feeling low the past few days, and even I can't think of new posts to make. And when I do, time won't allow me to.
Summer has officially started as well! The scorching heat of the sun outside make us all crave for the cold sweets like the very Filipino halo-halo, dirty ice cream, smoothies a la Jamba Juice, iced milk teas, frappuccino and the now famed Magnum ice cream. I'm also looking forward to my very first trip to the beach this summer with my college chums Susie, Kim E. and Dominique. We're heading up north tonight and we're so ready to get a tan! Oops, okay, I take it back. I'm mentally and emotionally ready but my things aren't yet. I have to do a quick packing after work.
That ain't new. I hate procrastinating but I'm pretty sure I'd still make it to our own assembly time. But one thing is new (boo, I hate this introduction!!!), I rejoined the bandwagon--I'm sporting full bangs now! The last time I cut my bangs on my own was 2009, months after I finished college. Three years later, I'm feeling like a youngster again. When I cut my bangs the other day, I thought of some inspiring people, just in case I'd look awkward and be much willing to blame myself (can I call this leveling? haha!).
Anne Curtis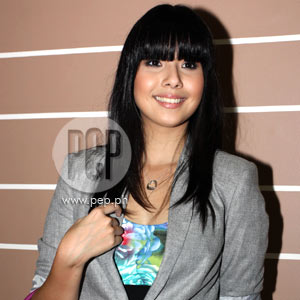 Maxx Magalona
Saab Magalona ♥
Saab Magalona is a major inspiration! Hee! I failed to find a photo of Patty Laurel, Regine Angeles and Heart Evangelista flaunting the full bangs though. I lacked courage so I thought of these ladies, they're my forever girl crushes! I hope I won't remind you of Charice because, uhm, yeah. But I saw she's got new looks now. For a change.
Masakit sa ulo.
Masakit sa bangs!
Full bangs, I conquered ya!
The next day, my bangs looked shorter!
...but nonetheless I loved it! I'm so happy that I did it--for my look, for myself. There are issues, actually. I have proved myself something and I'm so happy, even received compliments! Thank you! Thanks for calling me Emily The Strange, Sandara Park and a Japanese doll. Kawaii!
Hope we will all enjoy our weekend with a BANG! :)
♥,