When I first found out that I'm bearing a child, there were just so many, many exciting things I thought of, and one of them is shopping for our little one. Surrounded by little murmurs of the past like, "When you get pregnant/When you're already a mother, you'd give up a lot of things for your child." and "All your money will now go to your little one's savings.", quite alarming for a typical girl like me who loves shopping.. but now I must say that even if we've only just begun, I enjoyed every minute of walking and searching for the best I can give my baby.
Oh yeah, of course we say that there are things money can't buy. I totally agree, but we should also know that babies need bare essentials, and my little sailor deserves nothing but the best.
I did a little survey and research before we decided to have the first baby shopping. What should I put inside my hospital bag, which brands are of good quality and safe for babies, etcetera, etcetera. The "mother" in me is now slowly unfolding. I can't help it!
With the help of mommy blogs like Jackie Go's and Maggie Wilson-Consunji's and advice from my mommy cousins and friends, I was able to finish my shopping list and get some stuff from brands most trusted by moms.
According to this cutesy article from
Buzz Feed,
the bare necessities should include the following:
1. Newborn bottles. Even if I intend (and pray) to breastfeed my baby for two years, bottles should be ready. I have read a lot about breastfeeding, and the soreness and engorging of breasts is a little scary. I know I should read and learn more, but we'll get there. We bought an Advanced Starter Set from Avent (over the Classic set with only P300-difference) which includes 4 bottles, nipples, a pacifier and a brush. I think this will be the first and last time we'll be buying bottles because I know there'll be people who will give me feeding bottles as a present for my baby. Hehehe. :) And yup, it's quite pricey but we bought it with 30% discount! Not bad.
Feeding bottles.
2. Breast pump. We were about to get one from Pigeon but Kim said she'll just let me use hers. She never used for Nei-Nei. Saved! It would probably cost us big because breast pumps are expensive. Thanks Kimmie! :*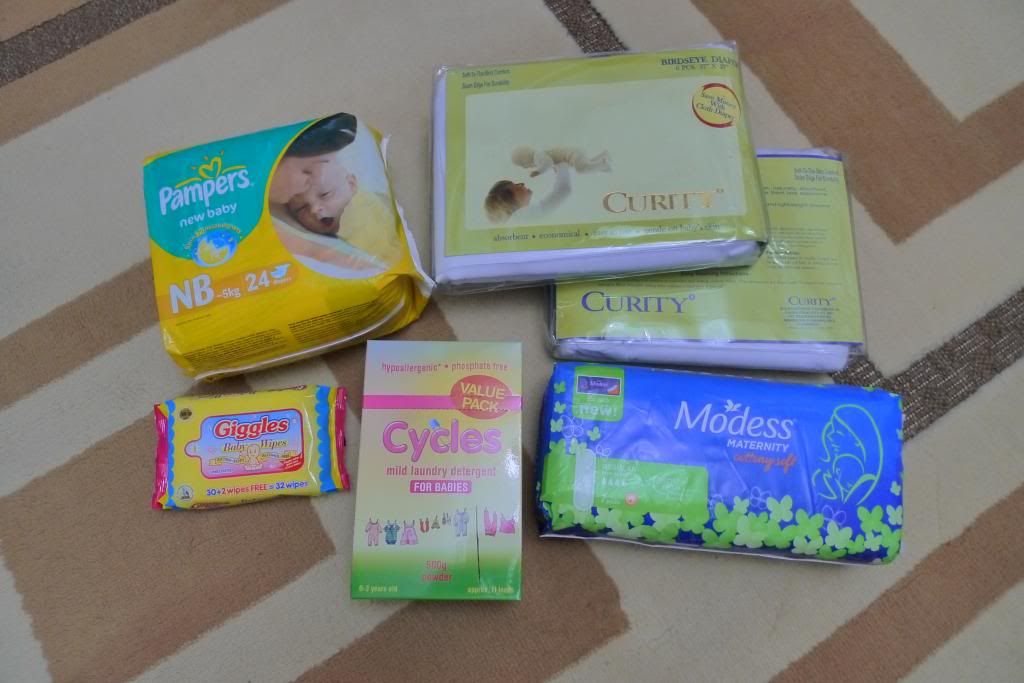 Diapers, wipes, diaper cloths, maternity pads and laundry detergent.
3. Birds Eye/cloth diapers aka Lampin. Curity was one of the most recommended brands for cloth diapers. Funny how I looked for the "usual" lampin, little did I know that this is how it should be for newborn babies, and it's not the kind of pangsapin sa likod na lampin. :p
4. Newborn diapers. "Madami bang buntis at bagong panganak sa QC?", I asked myself. Landmark ran out of Mommy Poko and Huggies stocks so we bought Pampers instead. A pack of 24 costs P201. Yikes! I must invest on more cloth diapers.
5. Baby wipes. I personally use Giggles (that's why it's in the photo) but I'll be using Johnson's for my baby.
6. Laundry detergent for babies. We're lucky we don't have to buy newborn clothes anymore (tie-side tops and pants, receiving blankets, mittens and booties, bonnets and coming home outfit) because as early as November last year, I've been receiving clothes for my baby. Gladly, most of them are in white. All we need to do now is to get these garments ready by washing them with safe laundry detergent. And there was Cycles for babies.
7. Maternity pads. If there's a thing I don't miss during my entire pregnancy, it's my period. But they say I'll probably bleed for almost a month and maternity pads should be in the hospital bag. And there are other things the daddy needs to do when I give birth aside from buying pads in a convenience store.
8. Nursing bras. I got two from So-en because (1) I love So-en and (2) a piece from Wacoal costs two bras from So-en. Now I know how cute nursing bras are... very accessible! LOL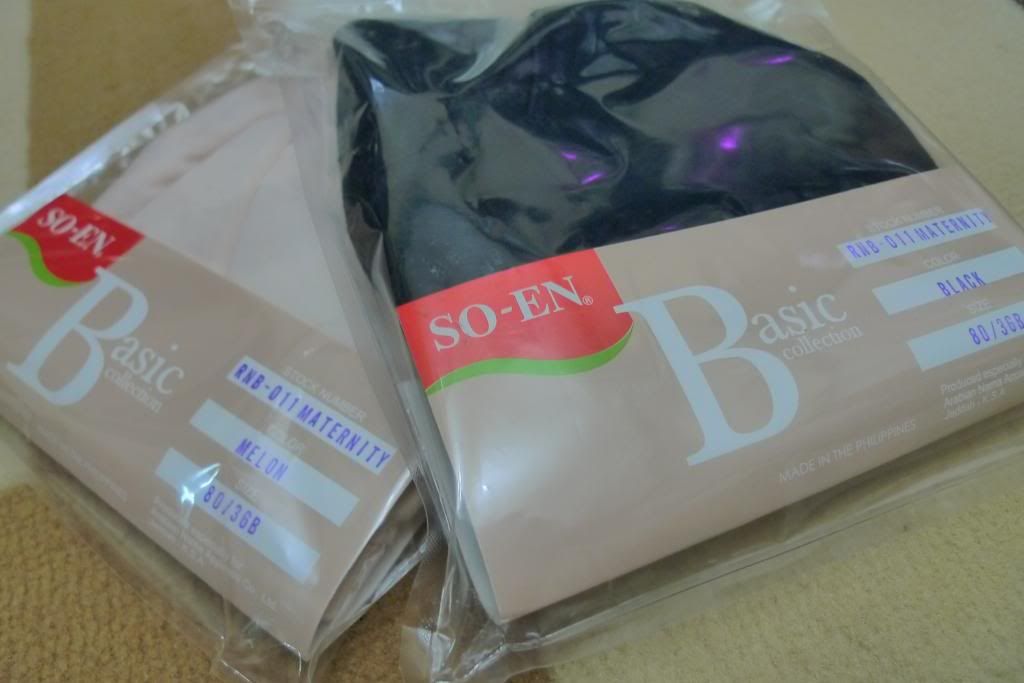 Nursing bras.
9. Other baby essentials like diaper rash cream, mild cleansers, lotion, cologne. One of the products I'd really love to try is Mustela. Gladly, we were able to score a set with another 30% discount carrying Bebe, 9 Months and Post-Partum. Now the lady in me is worry-free. These products are clinically proven to be safe for moms and babies. The set comes with a cute pink-transparent bag which includes nipple cream, diaper rash cream, hydration gel, stretch marks cream, etc. And oh, did I mention its light scent pleases my senses (because I have problems with Palmer's cocoa-shea butter scent!)?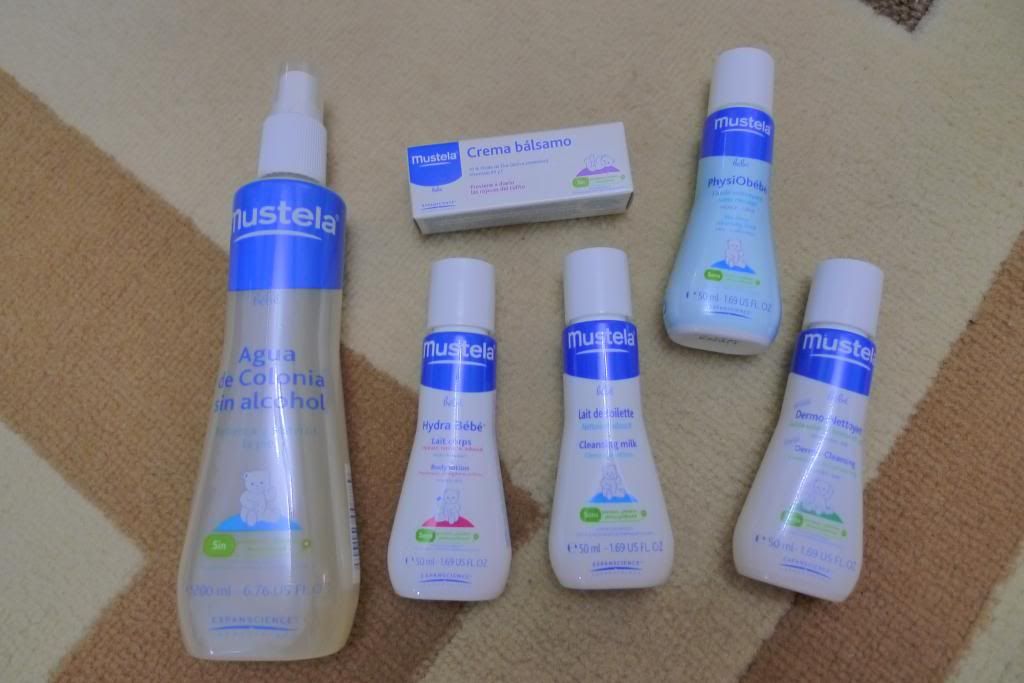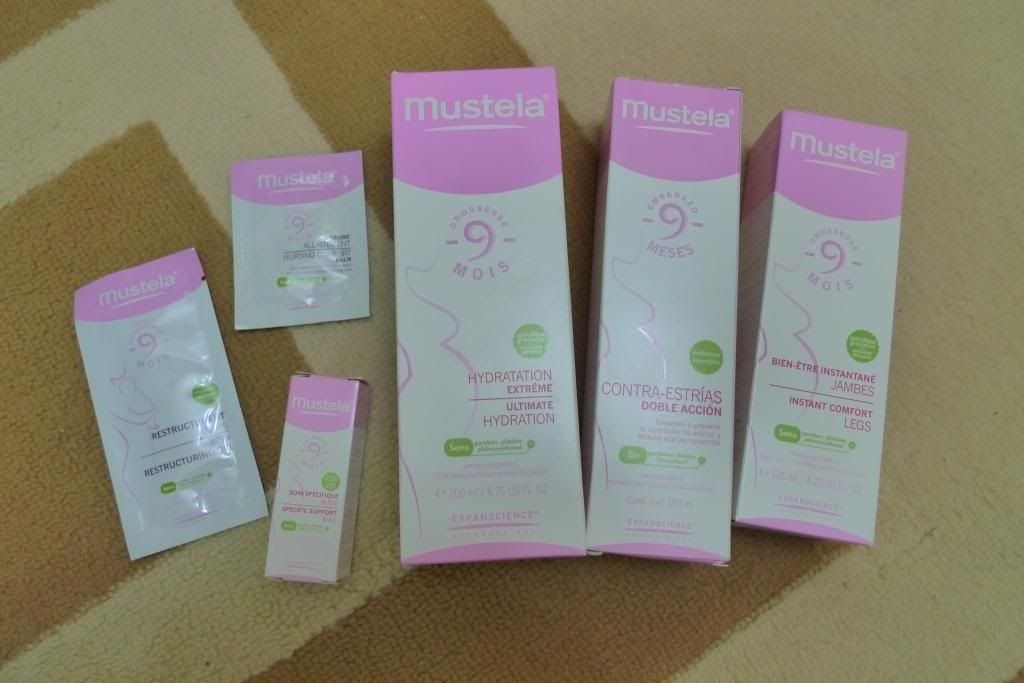 Love, love Mustela!
Our hospital bag is almost full. But wait, there's more! I still need some of these things:
10. Sterilizer. So expensive!
11. Nursing pads. Where to buy? Can't find one in department stores.
12. Crib. Hi lolos and lolas! Hehe :)
13. Positioner. Hi titos and titas! :P
I shall update my hospital bag soon with complete items and documents needed for my admission and delivery. Ten more weeks!